Weekly Angel Card Reading. Monday 13th June-Sunday 19th June 2022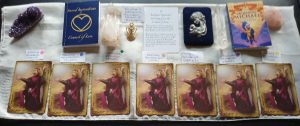 Weekly Angel Card Reading Monday 13th June- Sunday 19th June.
Overseeing Master for this week, Archangel Gabrielle.
Card Decks, Archangel Michael Oracle Deck, by Doreen Virtue.
Sacred Inspirations, Council Of Love, By Linda Dillon.
https://spiritstore.counciloflove.com/index.php/product/sacred-inspirations-card-deck/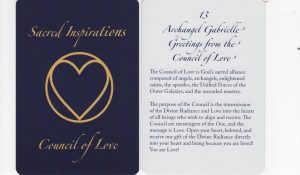 Monday 13th June
A favourable Outcome.
This card shows Archangel Michael weighing up the pros and cons of a situation on his scales of balance. He is adding divine energy to your project so it is perfectly in line with what is needed right now for you and the Divine Mother Father One. Ask Archangel Michael to sit with you as you plan your next steps in your life or any projects you are thinking of starting. Archangel Michael will help you to find the clarity you need to take the leap of faith, knowing that all is in direct alignment with Divine Will.
Tuesday 14th June.
Positive Thoughts Create Positive Results.
Hey! Is that you as your angelic self sprinkling Jophy dust (cosmic particles of creation.) and golden light wherever you go. Just look at you shine! Keep your thoughts positive to lift you at all times. What you put out to the Universe comes to you in wonderful ways when you do so.
Wednesday 15th June.
Prayer Will Help This Situation.
Whenever you feel worried or stuck with a situation, say a prayer. Prayers help far more than many people realise. When you say a prayer from your heart, it is instantly acted upon and helps many in ways we cannot begin to think of. God knows what we need even if sometimes we don't, and the Divine Mother/Father One will send you angelic help. Sometimes the Angel will be a person you know or a stranger who is willing to give you a helping hand. Connecting to God when we pray is very healing It fills us with God's Love and helps us to realise we are not forgotten or separate from Mother/ Father One.
Thursday16th June.
It's Time To Leave This Unhealthy Situation.
Archangel Michael has his sword and torch held high to get your attention. He wishes you to leave the situation that is giving you so much angst and to take a moment to go within your heart and to just sit within your heart to bring you back to balance. Is there something in your life you need to let go of? Ask Archangel Michael to cut any connecting cords to situations or another which do not serve you. Ask that healing love and light be sent to both ends of the cords, which also helps healing for the situation or person that is attached to you. Also, imagine the situation or person in a pink bubble of love. All you need to do is ask and trust that Archangel Michael will do this for you. If you are unsure, just say, "Michael, Help." and he will be with you in less than a blink of an eye. Just his presence will calm your situation and give you time to re-centre in your beautiful heart. Giving you confidence to go throughout your day.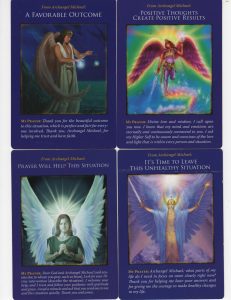 Friday 17th June
Use Your Imagination, And You Will See The Answer.
What if you could see the future would you be happy with it or would you be disappointed? Use your imagination to go through ideas about the situation you have on your mind. Then your thoughts will give you more clarity on what you want and don't want. If it helps, write your thoughts down as that too releases any stuck energies to help you see with clarity what your next step is.
Saturday 18th June
New Beginnings And A Fresh Start.
In this picture Archangel Michael is high above the Earth and moving away from all the darkness and into a lighter time. The orange of the planet is an uplifting colour which helps combat depression as you see things improving around you. The turquoise in the sky is absorbing negative energies so you don't need to. Together we will soar together! Soar Above and Beyond as our dear Lee would say. Where will your new beginnings take you?
Sunday 19th June.
Spend More Time Out Doors.
It is always good to connect with nature. When you walk upon Gaia, be it in the countryside or a park or woodland, the benefits are enormous. Your guides and Angels are more able to connect with you in nature, as to just be in an open space with such beauty around you, relaxes your senses and you will know they are nearby. So don't delay, find a nearby tree today!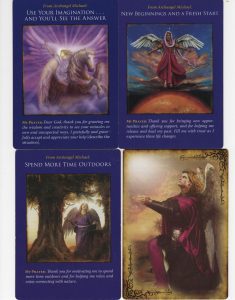 Just for fun, post a comment about what you think Archangel Michael is praying for.