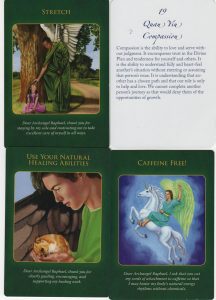 Weekly Angel Card Reading. Monday 6th June- Sunday 12th June 2022.
Overseeing Ascended Master for this week. Quan Yin.
Card Decks, Archangel Raphael Healing Oracle Deck by Doreen Virtue.
Sacred Inspirations, Council Of Love, By Linda Dillon.
https://spiritstore.counciloflove.com/index.php/product/sacred-inspirations-card-deck/
Hello everyone, and welcome to our first Weekly Angel Card Reading.
Each week I will choose with my guides the deck I shall be using for the card reading for each day of the week.
I will also be guided to pick a card from the Council Of Love Deck, Sacred Inspirations, to see which Ascended Master or Archangel is stepping forward to assist us during the week.
I hope you enjoy the readings.
Card readings are not set in stone and can change due to outside factors. You are responsible for your own health and the proper professional should be sought should you need medical assistance of any type.
These card readings are for entertainment purposes only.
Lindsey Harrison. (Lins)
Monday 6th June.
If you need a helping hand to get motivated, ask Archangel Raphael to help you up. Lean on the tree of life and ask that all be well and calm, and you will have clear roads ahead. It is a lovely day to get some fresh air, listen to birds singing and take some time to smell the roses. Unless you are allergic to plants and then just admire their perfection.
Tuesday 7th June.
Caffeine Free, shows a young Archangel Raphael flying high on his Unicorn as he doesn't need caffeine to keep him going. Archangel Raphael asks you to cut back on your caffeine intake and honour your body's natural energy.
Wednesday 8th June.
Use your natural healing abilities. Everyone has natural healing abilities which come from our heart centre. You may not be a trained healer but there are so many ways you can use your natural healing abilities. For example, listening is very healing, being compassionate to another. Smiling at someone just when they need a smile to lift their spirit, and just caring from your heart and sending your love to those you meet. Archangel Raphael says, "We stand beside and walk with you every day. Just a whisper is enough for the angels to help you, and believe me, there are many, many healing angels."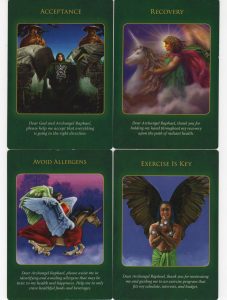 Thursday 9th June.
Recovery. In this card, see yourself as the Unicorn. Archangel Raphael has helped you to get better from that which did not serve you.
This Unicorn is hesitant to take those first steps to a full recovery, but with Archangel Raphael's unwavering support, you can finally let go and start a new beginning in the next chapter of your book, which is well-read and a best seller in the akashic library, Find your inner Unicorn and fly, soar high, for I, Archangel Raphael am always with you.
Friday 11th June.
Acceptance- Archangel Gabrielle asks of you that you accept who you are in your entirety. Daughter or Son of One you are worthy of love and praise plus all the nice things you have or would like in your life. Dream Big! The future is yours to create!
Saturday 11th June.
Exercise is key.-It doesn't matter which sort of exercise you do, as long as you do something. Exercise, as well as keeping your muscles and body moving, also gives you the feel-good factor. You feel brighter, and your eyes shine more. Start off gradually and build up what you love to do. It may be just a stroll, a run or chair exercises but little by little, you will find it becomes easier and more enjoyable. Come and join me down at the gym, in the pool or at the park.
Sunday 12th June.
Avoid Allergens. This is the time of year for many plant allergies to come to the forefront. Keep an eye open for where if plant allergies affect you, the plants grow and avoid them where you can. I ride my charger quickly to aid you and guide you to things and people, which will help ease the allergy. Eating local honey if you are not diabetic helps.
image from Pinterest